In the retail world, you probably often hear about multichannel and omnichannel selling. These two terms are frequently confused with each other despite having different meanings. If a business sells products on more than one channel, it's already considered multichannel. However, omnichannel represents something much more complex than that. And Omisell will help you to recognize and determine their differences in the following article.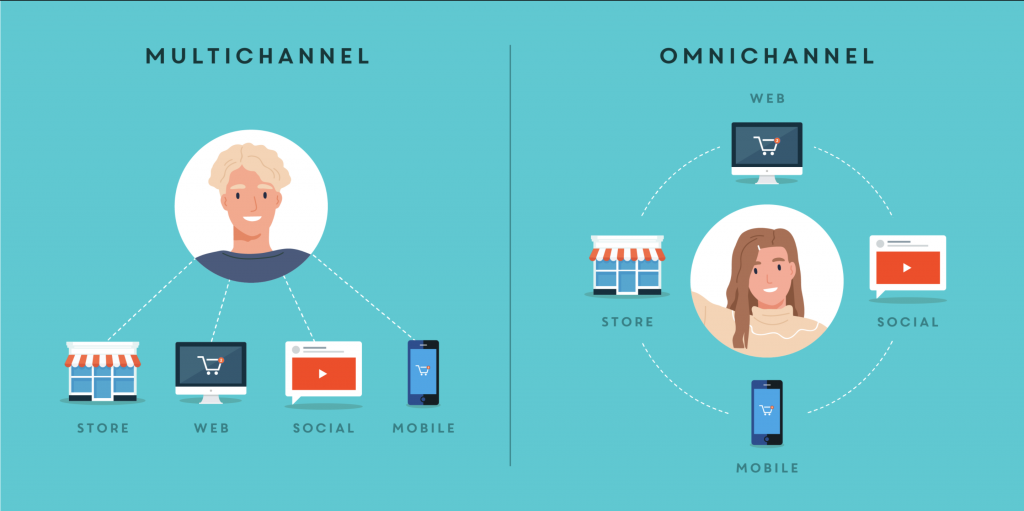 (Photo by Acquire)
Multichannel vs. Omnichannel
Multichannel: Meaning many channels, multichannel retail focuses mainly on the brand's products and sales offerings. Customers can access to buy on whichever channel of their preference since these separate channels can be a purchase stop on their own. 
Omnichannel: Meaning all channels, omnichannel revolves around customer experience as the core. Using an integrated system to record customer behavior across platforms, omnichannel can create a unified and seamless experience with different touchpoints, using personalized and adjusted messages based on each customer's specific actions.
The shopping experience
With multichannel, the purpose is to provide customers with information. The same message is displayed on various platforms, only with slight modifications. For example, you can find a Lock&Lock air fryer oven on practically every E-commerce marketplaces, from brand website, retailer websites, to E-commerce platforms, and social media. On all channels that the brand holds direct influence, you can find similar offerings and promotions, with the only difference might be shipping cost. 
No matter which channel got in your sight, you can purchase the product directly without having to go through another channel. You can see advertisements and incentives before making the purchase, but solely on the channel that you interacted with.

On the other hand, omnichannel gives customers personalized offers, product,s and messages through merging all channels: websites, emails, targeted ads, social media, instant messaging, and even physical locations. For instance, when you add or favorite the same Lock&Lock air fryer oven on any channel in the mix, the omnichannel system receives the information to start engaging with you. 
You may find a coupon waiting in your email's inbox, several advertisements on Facebook or Google about said oven, or even a Facebook Messenger invitation to try out the product in the nearest store. You can put the item in the shopping cart and forget about it in a couple of weeks, but these touchpoints are reminding you constantly to come to a final decision, staggered over time to avoid being too bothersome.
And the journey doesn't end there. After you are done with a purchase, sellers can use your information to ask for reviews and advertise future promotions. The only difference here is that omnichannel is able to do it on a much larger scale.
Which strategy is right for your business?
Omnichannel is ideally the better option since it increases customer engagement tremendously. Nevertheless, the decision really depends on each business and its primary focus. If yours is a traditional brick-and-mortar store, the approach can be distinctive from a digitally native brand. 
Making the transition from multichannel to omnichannel requires significant resources with a clear vision from managers. There is no stopping halfway for omnichannel retail as half the experience does not count as an experience at all. You will need to invest in building systems and infrastructure, as well as hiring E-commerce experts to manage all the necessary personalizations. 
Otherwise, multichannel can work just well with loyal customers of a sales channel, but problems may occur when the experience is vastly different from one channel to another. 
Therefore, our advice is that businesses should start off with optimizing their multichannel experience before thinking about tying them all together for an omnichannel strategy.