Follow the steps below to start using Omisell to manage omnichannel sales quickly
and refer to the detailed tutorial articles below to help you in the process of using Omisell
Connect to sales channels
Connect your sales channels on Shopify, Woocommerce or e-commerce platforms like Shopee, Lazada, Tiki,... to automatically synchronize products and orders.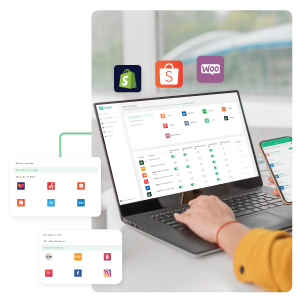 Detailed and complete instructions for each basic feature of Omisell.

Guide to use the most basic features of Omisell so that users can operate sales channels easily.
A simple guide to creating a sales page, setting up a flash sale program, and easily sharing social media channels.
Quickly update the user guide of the new
features on Omisell.
Details of Omisell's apps, including basicapps and newly updated apps.
Omisocial is an application that helps to create a free sales page and has features to run Flash Sale campaigns.
Omichat, an application owned by Omisell, enables users to easily manage chat tabs that are connected with Omisell user' account on e-commerce marketplaces